Bitcoin SV is growing in Latin America and Spain.
Dr. Michael Wehrmann
2020 07 06
https://coingeek.com/bitcoin-sv-is-growing-in-latin-america-and-spain/
Bitcoin SV (BSV) serves as a global ledger that makes use of the original Bitcoin capabilities. No wonder people from all over the world are involved.
Especially in Spain and Latin America, BSV seems to win users, developers, enthusiasts, businesses and media traction. Time for CoinGeek to meet some of the Spanish and Latin American Bitcoin SV proponents.
We caught up with Ramon Quesada and Jaime Sánchez, both highly involved in developing a BSV society in Spain and Latin America.
Hello Ramon and Jaime! Kindly introduce yourself to our readers.
Ramon: Hi, my name is Ramon Quesada, I'm from Cuba, but I have been living in Valencia (Spain) for close to 30 years. I first heard about Bitcoin in spring 2013, I fell in love with the concept at the first glance, let's say I have been looking for something that gives me freedom all my life, and that's what I saw in Bitcoin when I started to read about it. Since then I've been involved to learn and create a community in Valencia, you may see more info on my blog.
Jaime: Well, I was born near to a small city in La-Mancha, Spain, 29 years ago. I am involved in Bitcoin since 2013 when I was studying computer science at the university. I literally spent weeks at the library just reading about that. Since then I dropped full time to Bitcoin to try to understand it. I refer to myself as a multidisciplinary researcher, working with some fintech startups in these years. I can say my experience is focused on derivatives markets and financial controlling. For more info: this is my website.
Take us inside the digital asset world of Spain and Latin America—how broadly known is "general crypto" in your countries so far?
Ramon: Well, I used to run an online newspaper franchise as a team manager, Cointelegraph España (which is not what we have today, Cointelegraph en español, is not a franchise) from the end of 2015 till August 2017. BTC was changing a lot, especially the transaction fees, the confirmation time etc., that made things go bad for merchants and users.
So BTC almost lost the sense of medium of exchange for merchants and users, and from that perspective, I was losing sponsors in order make the franchise successful, and the point is that there were very few companies at that time that used to sponsor us, so franchise was over, and now by the time that has passed, things for merchants and users were not getting better, I would say things are even worse.
So then came the ICO era, and after that the BCH fork, and after that BSV—when I saw the roadmap of BSV, at the end of 2018—I said to myself: this is a completely different story! And this must be the opportunity to the ecosystem to grow.
BSV has only one year and a half so far, and we start to see growth in Spain (HandCash was an standard point to follow and to learn from) and in a few countries in Latin America (we have a friend in Argentina working for Money Button, another reference for the community). We also have some friends from Venezuela (Kuwai dev), they are working in some project in the MetaNet space, and they are coming out with their apps this same year. These are just some examples of what we have, but not all of them. Now the difference is that the BSV blockchain protocol is already done, so we are ready to receive developers to construct on top of BSV.
Jaime: I can say this "crypto world" is driven by new users each time price goes up, in Spain for example you can find meetups about these 1000 alternative coins trying to find devs to develop in their tech, and on the other hand you can see typical monthly meetups about false narrative, BTC maximalist, and DEFI.
People do not want to learn about tech, just a tiny group building with blockchain tech, it is just a few, and they are building incorrectly, with no scale projects and proofs of concepts. The community is guided by trends, ICOs, STOs, now the DEFI scam. Nobody is trying to understand the real tech on their own. Everything is about the price, buy and sell, and exchanges do events and marketing to catch new "retail investors."
In Spain, if you go out and ask random people on the street, they think Bitcoin is a risky speculation, related with drugs and black markets and their confidence is low. That's the majority point of view.
Can you name some of the biggest exchanges in your countries and some media outlets that report on digital assets?
Ramon: There are some small websites here in Spain, unfortunately they have to follow what the community agenda marks. Now most of them are publishing more pro BTC and DeFi news. We have a couple of friends that cover BSV/MetaNet news here in Spain: https://www.tucriptomoneda.com and https://observatorioblockchain.com.
We hope these examples would replicate in other countries in Latin America.
Jaime: For example, in Spain Bit2me or Bitnovo are the mains exchange actors, tiny startups and early adopters operating as a broker with a fee, but no real exchanges because of the law. In Spain it is not clear how to operate as a real exchange.
Both of you seem to have acknowledged that the original Bitcoin only lives on in the form of Bitcoin SV (BSV) nowadays. How much attention does Bitcoin SV get in your community?
Ramon: It is a small community, let's say after a year and a half, we are just starting, but we have already done some social network to share information with the community, because we have 7 years' experience of doing blockchain/crypto community:
BSV en Español:
– Web: https://bsvespanol.org/
– Telegram Public Chat: BSV en español: https://t.me/Bitcoin_S_V (218 Members)
– Twitter: https://twitter.com/Bsvespanol (260 Followers)
– YouTube Channel: (More than 30 videos created and 138 subscribers)
https://www.youtube.com/channel/UCpE2q1-sgCM-9LCJ8PCYyvg
– Meetup https://www.meetup.com/es-ES/BitcoinSV_Valencia (140 Members)
– Facebook Group: https://www.facebook.com/groups/BitcoinSVValencia/ (5.600 Members, mostly from Nigeria)
This is our latest torpedo, with only 24 active users, we haven't opened it for the entire community yet, thanks especially to Jaime Sánchez we did run it up in only a few days and here is the current content: https://foro.bsvespanol.org/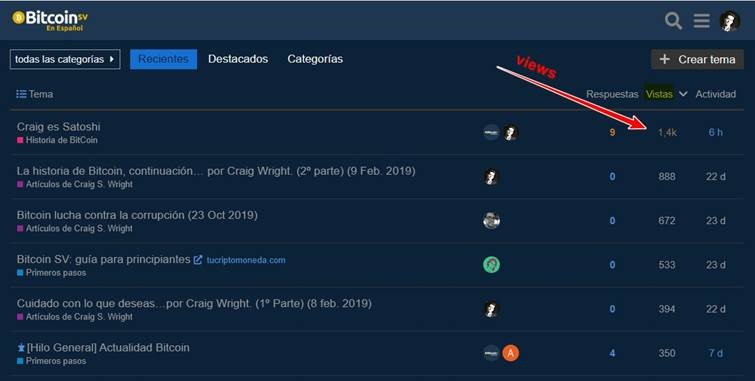 Jaime: It were difficult times. We have tried to explain technology, history and "why BSV" in some meetups in Madrid (were supposedly a more techy community exists), but we found criticism, attacks and a lot of mixed concepts badly argued by people that think they have more knowledge or the correct knowledge about Bitcoin.
It's so difficult to create a "community", but now we think—and being 7 years in this ecosystem—we have found the correct way, not arguing with them, just building our own infrastructure with our new Spanish forum related only to BSV and focus on the history of Bitcoin (the real one) and development. We are building the correct time line for the new users of the future.
What about the "crypto media" reports about Bitcoin SV in Spain and Latin America? Are they reporting neutrally, not at all or even negatively connoted?
Ramon: They are pro BTC, without neutrality, but we keep fighting for our freedom!
Jaime: "Crypto media" publish what companies are paying them to publish, simple, and some clickbaits with no real value are just sensationalism.
Is there kind of a language barrier for people from Latin America to get crucial information about Bitcoin SV?
Ramon: Definitely yes!
Jaime: Yes, absolutely. We`ve spent more than 6 years in this tech and always English has been a "problem" for new Spanish or Latin American people. There are professionals, high qualified, great people with creative skills and thoughts, others maybe don't have a high level education, but a lot of interest to learn and how to start using this, not just buy and sell. When they understand the real usability they wake up and want more. For the professional side, the main part missing is a good documentation or official standards to start with.
Our main mission was always to be the bridge between these people, and I have to say that Ramon Quesada did a really good work in these years, working 24/7 in filtering the good information. I've learned so much sharing time with him, we spent time in events, different communities and projects in these years; we were learned, studied and kept doing it. I am proud to share this adventure with Ramon, with all the people that we knew in these years, and to be part of something greater than ourselves that can impact millions of lives in the future.
How is "crypto twitter" in Spain and Latin America positioned concerning Bitcoin SV?
Ramon: We are few, but we believe we are in the right path, so we tweet every day! We are growing slowly but very firm, I want to thank all friends that help sharing our tweets, and especially Luis Carrión, he never gives up tweeting and twetching, I have no words to thank his fantastic work! Also see:
Bitcoinˢᵛ en español: https://twitter.com/Bsvespanol
Bitcoinˢᵛ Argentina: https://twitter.com/argentina_sv
Jaime: "Crypto twitter" in Spain is the clear reflection of the community, they are all wrong in general, with false narratives about scarcity, store of value and blah blah blah.
The problem is the money behind the exchanges and companies which are not showing themselves publicly, they are moving the markets in this kind of casino party, the 98% of the ICOs are not presenting any project working with blockchain in these past years.
"Crypto twitter" is not good for knowledge, sadly it's a waste of time, because when a good info appears, nobody is watching, but if you are part of the business, you know, you need to be a player, it is the price to pay. On the other hand, you have this kind of gurus collaborating with some entities, companies or official government initiatives just talking and talking and doing meetups for nothing. But they created their mini-community and they are validating their ideas for themselves. For sure, we are the only Spanish "real Bitcoin knowledge base" right now
How easy or hard is it for your friends and families to actually get onboarded to Bitcoin SV? Which onboarding process is being used most, and what could or should improve?
Ramon: Hard question! It is hard to do onboarding. I think we have to improve the education process, more quality information to kill all those myths about Bitcoin! We need to have a good narrative and success in BSV, and small projects are very important for onboarding.
We designed a roadmap to show to the Bitcoin Association, we hope someday we could make it real: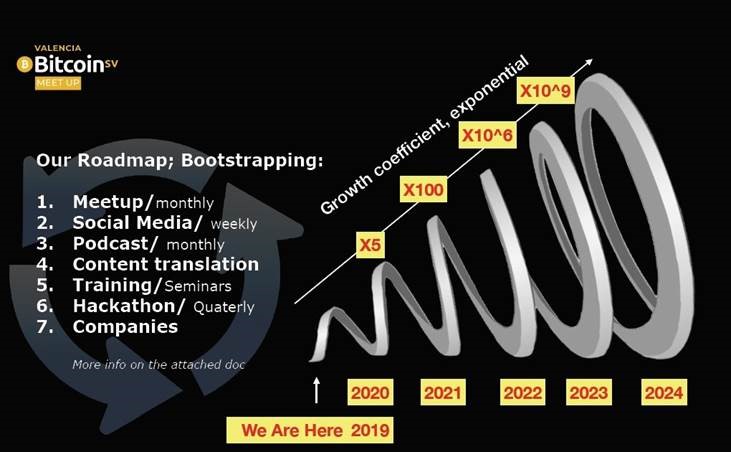 Jaime: For now, onboarding is as easy as to show apps running on top of Bitcoin or using micropayments. We show apps like Twetch and HandCash, we put some money inside, Money Button also, and show how to create your own profile, people learn to do things with Bitcoin SV.
We are not explaining what blockchain is, what a Bitcoin address is, but we explain easy to understand things. Just use it and see how fast it is. The difficult part is explaining when they ask about BTC, you need to be careful using words to explain what a software implementation is and why you can have different implementations.
Let us talk about what both of you actually do to help spreading Bitcoin SV in Spain and Latin America. Kindly tell us about the meetups you have done so far!
Ramon: Basically we use social network to inform about our meetups, then give freedom to people to express themselves and give them the best information we have. We do not give financial advice, we give them everything to learn by themselves, then we show them our social network in which we have the discussion, like the Telegram chat: https://t.me/Bitcoin_S_V
And soon in the forum for the entire Spanish speaking BSV community: https://foro.bsvespanol.org/
We talk clearly and we show the BSV roadmap, and the difference with other blockchains, there is no secrecy, but work every day!
Jaime: Currently we launched this website for Spanish and Latin American people: https://Bsvespanol.org
In some way to catch people that are searching about BSV in Spanish, to do a listing about local communities groups here: https://bsvespanol.org/comunidades/
And redirect to our official forum—https://foro.bsvespanol.org—where we are putting on as much information as we can: Craig Wright articles and reflections, myths and false narrative problems, developer tools etc.
The idea is to put all the information in form of threads, to start with a good knowledge base. For now we are trying to do it this way, filtering in all the people trying to guide these people to the truth, saving time and accelerating the learning curve as easy and as fast as possible. If you are reading this and want to form a part of the forum, you can contact us at our official Spanish telegram group or in the contact form on the website.
Of course we would want to do this with the Bitcoin Association in collaboration, working as a part of the Bitcoin Association or collaborator, but we think heroes or leaders are missing and you don't have to ask permission to build something. Latin America has a huge community that is missing in the game, as well as Spain.
What is planned for the future? Are you going for even bigger events?
Ramon: Yes, sure! Thanks to the Bitcoin Association, we have done some events, and we hope to continue our activities. We have already announced the 16th BSV Meetup.
We have done one meetup each month so far, I think we are the only community with 16 meetups, but we rather prefer recurring activities (like a mini Hackathon, every 3 or 6 months, for example, than isolated big events), we are thinking in the long run, and we want a strong community!
Jaime: This is the beginning. Currently we are running the first Spanish meetup about BSV in Valencia, Spain. We did 14 official meetups so far, first with BCH and later with BSV.
We did the first in person mini hackathon for Spanish people in Barcelona last summer:
And now we want to launch the second in person hackathon in Valencia this summer.
We also think it is important to start talking with universities to collaborate in boot camps or meetups to show the tech to students with all the possibilities of Bitcoin in the next academic year.
From the meetups you organized and your involvement in the Latin American and Spanish "BSV society", is there anything specific that people from Latin America and Spain expect from Bitcoin SV's development/apps?
Ramon: Well, for most of the veteran people in the space, we expect to see BitCoin as it always was intended to be—money for the entire world, BitCoin as a medium of exchange, low fees, fast transactions, micropayment as a new business model, and also new business model using our data, and a lot of new business models we cannot even imagine yet.
We think for people from countries like in Latin America, Bitcoin is not an expensive toy, it rather is a desired tool to improve their lives, and we have to show them that Bitcoin is back, and the promise to make a better world is still alive, today more than ever before.
Jaime: I think people don't realize the potential of the real Bitcoin as a form of protocol to build everything on top of. They are waiting real micropayments and standard payments in merchant and retail shops locally but in general people don't see all the power yet.
In Latin America, they want to use Bitcoin for everything as a normal currency, we need to spread people that Bitcoin is a tool to improve the form of the classic fiat money, but not a currency per se, that is the original idea we are learning now.
How can we get in touch with your community and be up to date on the progress? Are there any "must follow" Twetch or Twitter users from Spain and Latin America to have an eye on? Is there a specific website you recommend? Maybe a Streamanity or Youtube channel?
Ramon: Sure!
Telegram public chat:
BSV en español: https://t.me/Bitcoin_S_V
Bitcoin SV Bizkaia: https://t.me/bsvbizkaia
BitcoinSV Catalunya: https://t.me/CatalunyaBSV
BitCoinˢᵛ Argentina: https://t.me/joinchat/AJAzdESwi2sOfW8vCp-i2Q
Bitcoinˢᵛ Colombia: https://t.me/joinchat/AJAzdFilnbhmi_Ng0-OzUw
Bitcoinˢᵛ Venezuela: https://t.me/joinchat/L337ZBTYxsofMPizynBbzA
Bitcoinˢᵛ Mexico: https://t.me/joinchat/AJAzdE9e3RHkvgfTrvOiQg
BSV – CUBA: https://t.me/BSVCUBA
Twitter:
BSV en español: https://twitter.com/Bsvespanol
BitCoinˢᵛ Argentina: https://twitter.com/argentina_sv
YouTube channel: https://www.youtube.com/channel/UCpE2q1-sgCM-9LCJ8PCYyvg
Meetups: https://www.meetup.com/es-ES/BitcoinSV_Valencia
Facebook groups:
https://www.facebook.com/groups/BitcoinSVValencia/
Jaime: Our contacts in Twetch and Twitter are Ramon Quesada and Jaimexbt. Yes, I know, sorry, I've been using the ticker XBT as a part of my alias since 2013.
It is useful to follow HandCash's Alex Agut, our friend and ambassador, but he is always posting in English. The rest of our friends are working hard locally in their Latin American communities like Cuba, Colombia or Venezuela, but they are still small communities, there is a lot of work to do!
Thank you very much Michael, and thanks also to the CoinGeek staff and all people that give us the opportunity to express ourselves in this interview.